Effective Options for Early Stage SCC
Most squamous cell carcinomas (SCCs) of the skin can be cured when found and treated early. Treatment should happen as soon as possible after diagnosis, since more advanced SCCs of the skin are more difficult to treat and can become dangerous, spreading to local lymph nodes, distant tissues and organs. Find out more about treatment options for advanced or recurring SCCs here.
If you've been diagnosed with an SCC that has not spread (in situ), there are several effective treatments that can usually be performed on an outpatient basis. The choices available to you depend on the tumor type, size, location and depth, as well as your age and overall health.
Options include:
Ask your dermatologist to clearly explain the options that might work best for you, including details about the risks and benefits. Check our treatment glossary for more detailed information.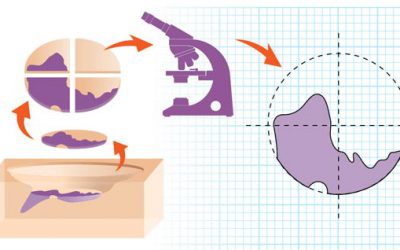 Reviewed by:
Elizabeth K. Hale, MD
C. William Hanke, MD
Last updated: January 2022
Note: The information included on this website is medically reviewed and factually accurate. It is intended for educational purposes only. The treatment information on this page is not a recommendation or endorsement of any drug, device or treatment, nor does it suggest that any drug, device or treatment is safe or effective for you. If you have any questions about skin cancer treatments, please talk to your health care provider.