Early Detection Best Practices
Detecting an actinic keratosis (AK) early gives you the opportunity to treat the lesion and prevent skin cancer before it starts. When diagnosed promptly, almost all actinic keratoses (plural) can be successfully removed. Left untreated, some AKs may progress to squamous cell carcinoma (SCC).
How to spot actinic keratoses
TEXTURE 


Flat to slightly raised, scaly, crusty, rough, sometimes with a raised horn shape or bump.
COLOR 


Red, tan, pink, skin-colored, brown or silvery.
SIZE 


Dimensions vary from a tiny spot to as much as an inch in diameter.
LOCATION 

Frequently on ultraviolet (UV) exposed areas including the face, lips, ears, scalp, shoulders, neck, back of the hands and forearms. Actinic cheilitis is a variant of AK that arises on the lower lip.
How to spot actinic keratoses
AKs are often more easily felt than seen. Skin may feel dry and rough to the touch, or raw, sensitive and painful, or even itchy with a pricking or burning sensation. Some AKs look and feel inflamed. In rare instances, they may bleed or develop a persistent sore, also known as an ulceration. In other cases, they come and go in the same spot.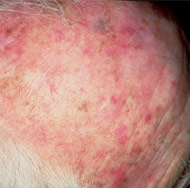 Multiple red bumps and tan crusts on the forehead and scalp.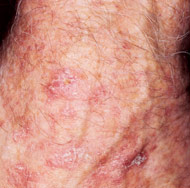 Scattered thick, scaly, red patches on the back of the hand.
If you have a history of unprotected UV exposure, live in a sunny location or have other risk factors, be on the lookout for any unusual changes in your skin.
Check yourself head to toe once a month: Keep an eye out for new, changing or unusual spots or lesions that persist, grow or bleed. If you notice any warning signs or symptoms, see a dermatologist. Learn how to check your skin here.
See your dermatologist every year for a professional skin exam. Having a specialist who is skilled at identifying and treating abnormal skin growths is vital to your health and wellness. Anyone who has AKs should be under a dermatologist's care.
Practice sun-safe habits: A complete sun protection strategy is the single most effective way to reduce your risk of developing AKs. Avoid unprotected UV exposure. Seek the shade, especially between 10 AM and 4 PM, use a broad-spectrum (UVA)/UVB) sunscreen and wear sun-protective clothing, a wide-brimmed hat and UV-blocking sunglasses.