Skin Cancer in People of Color
It's a fact: Skin cancer affects people of all colors. Even if you have a darker skin tone, always tan or rarely burn, you can still develop the disease. What's more, for people of color, skin cancer is often diagnosed later, when it is harder to treat. This includes people of African, Asian, Latino, Mediterranean, Middle Eastern and Native American descent.
Simply put, if you have skin, you can get skin cancers. These include the nonmelanoma skin cancers like basal cell carcinoma (BCC), squamous cell carcinoma (SCC) as well as melanoma. Furthermore, ultraviolet (UV) radiation from the sun can cause dangerous, lasting damage to your skin.
What People of Color Can Do
The most important thing to do is get to know your skin type and protect your skin from the sun. Also, check yourself monthly and see a dermatologist once a year for a full body exam. No matter what, if you notice anything NEW, CHANGING or UNUSUAL on your skin, contact a dermatologist.
Download the PDF: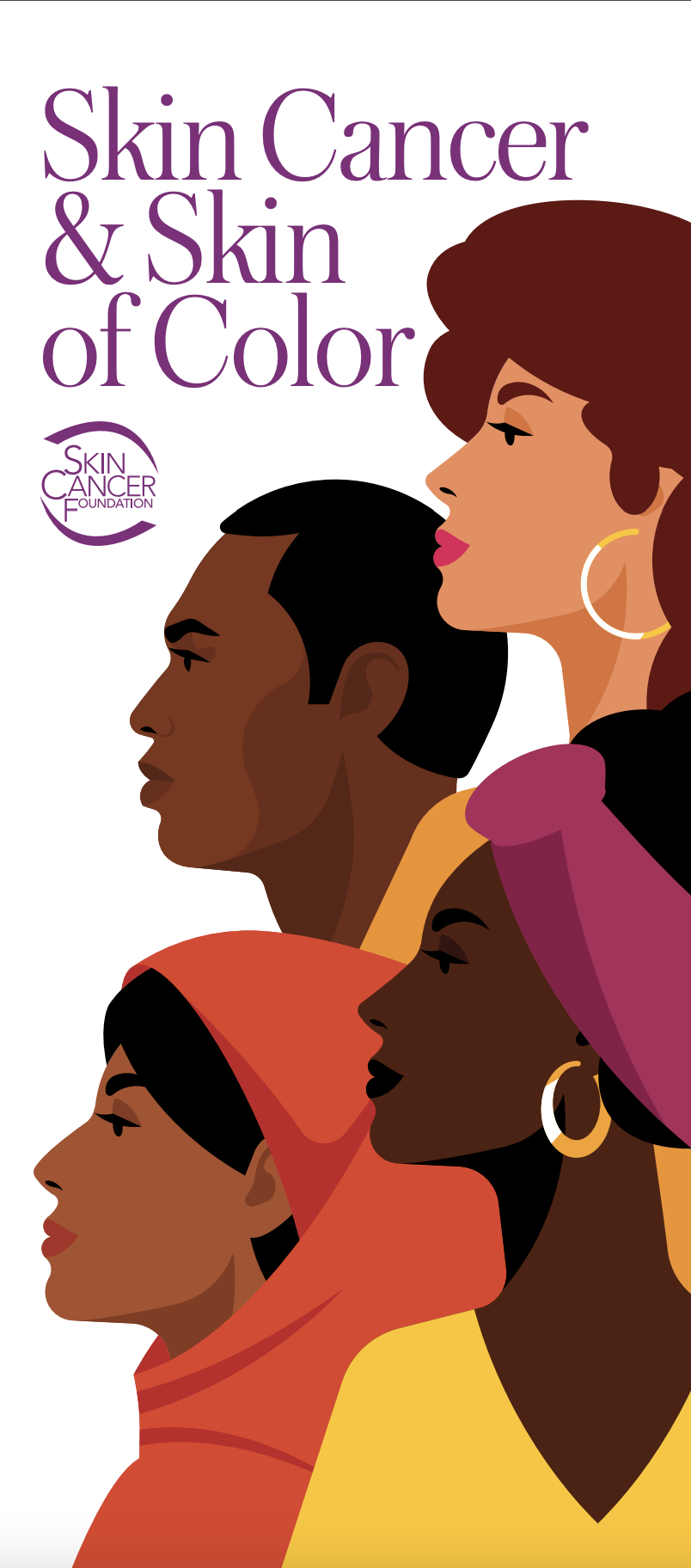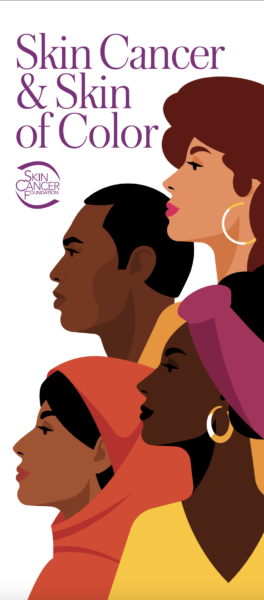 Intended only for personal use. Do not copy or distribute. To purchase the brochure, visit store.SkinCancer.org.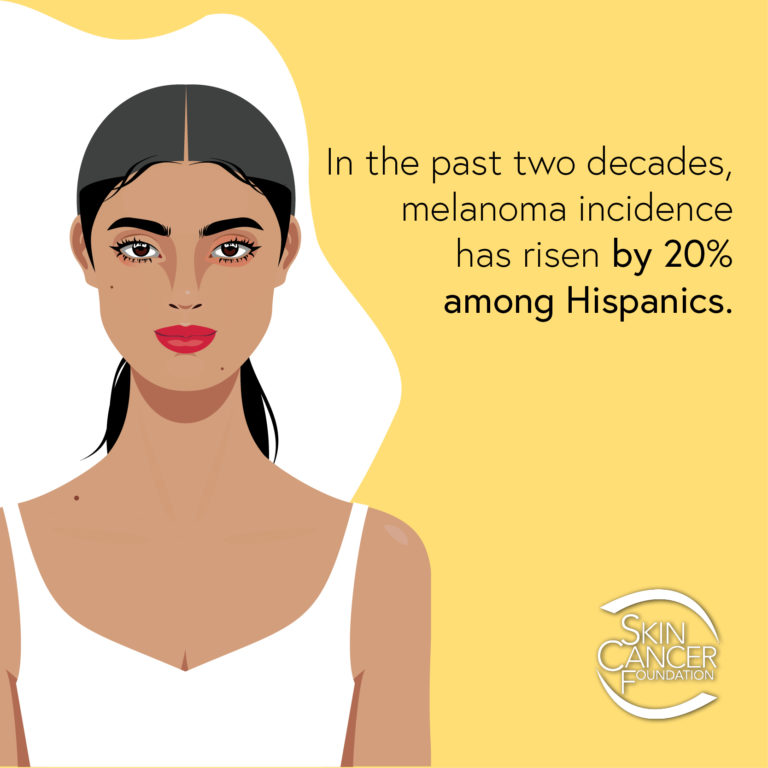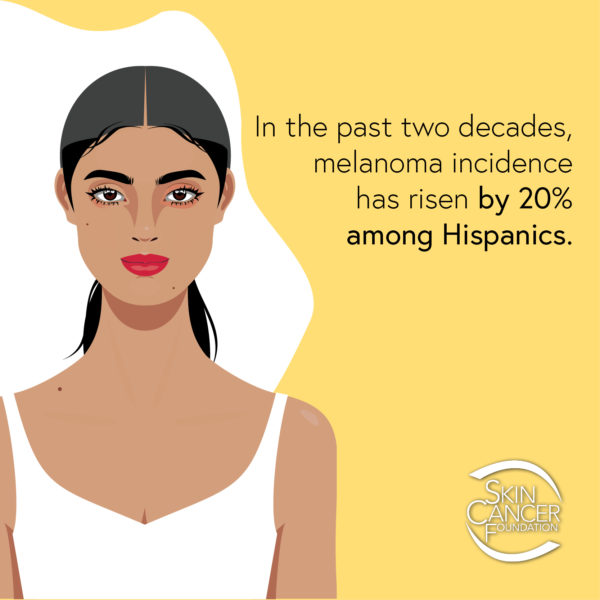 Skin cancer represents 1 to 2 percent of all cancers in Black people.2
Skin cancer represents approximately 2 to 4 percent of all cancers in Asian people.2
Skin cancer represents 4 to 5 percent of all cancers in Hispanic people.3
Squamous cell carcinoma is the most common skin cancer in Black people.2
Black patients with melanoma have an estimated five-year melanoma survival rate of 70 percent, versus 94 percent for white patients.1
Melanoma in people of color most often occurs on areas that get little sun exposure. Up to 60 to 75 percent of tumors arise on the palms of the hands, soles of the feet under the nail (subungual) and the nail areas. 2
Black patients are more than three times as likely to be diagnosed with melanoma at a late stage than non-Hispanic white patients. 52 percent of non-Hispanic Black patients and 26 percent of Hispanic patients receive an initial diagnosis of advanced-stage melanoma, versus 16 percent of non-Hispanic white patients.4
In people of color, the plantar portion of the foot is often the most common site of skin cancer, being involved in 30 to 40 percent of cases.3
People of color have higher percentages of acral lentiginous melanoma (ALM, melanoma of the palms, soles and nailbeds) than Caucasians. Superficial spreading melanoma is the most frequent subtype in Caucasians and Hispanics.3
Click for references

Cancer Facts and Figures 2023. American Cancer Society. https://www.cancer.org/content/dam/cancer-org/research/cancer-facts-and-statistics/annual-cancer-facts-and-figures/2023/2023-cancer-facts-and-figures.pdf  Accessed January 16, 2023.
Gloster HM, Neal K. Skin cancer in skin of color. J Am Acad Dermatol 2006; 55:741-60.
Bradford, Porcia T. Skin Cancer in Skin of Color. Dermatol Nurs 2009 Jul-Aug; 21(4): 170-178.
Hu S, Soza-Vento RM, Parker DF, et al. Comparison of stage at diagnosis of melanoma among Hispanic, black, and white patients in Miami-Dade County, Florida. Arch Dermatol 2006; 142(6):704-8.
Bob Marley was diagnosed with acral lentiginous melanoma (ALM) which ultimately claimed his life in 1981 at age 36. When a dark spot appeared under his toenail, Marley attributed it to a soccer injury. Eventually he was diagnosed with the disease but was not treated. His melanoma spread to other areas of his body and tragically cut his life short.
Q: While all types of skin cancer are less common in people of color, their outcomes are dramatically worse. What accounts for this gap?

A: Skin cancers are less prevalent in nonwhite racial ethnic groups, but when they occur, they tend to be diagnosed at a later stage. As a result, the prognosis is worse. One study showed that late-stage melanoma diagnoses are more common in Hispanic and Black patients than in non-Hispanic white patients.
First, there's a lower public awareness of the risk of skin cancer among individuals of color. Second, from the perspective of health-care providers, there's often a lower index of suspicion for skin cancer in patients of color. This is because the chances of it are smaller. So these patients may be less likely to get regular, full-body skin exams. And third, the places on the body where skin cancers tend to occur in people of color are often in less sun-exposed areas. This makes detection more difficult. For example, the most common location for melanoma in patients of color is the lower extremities — the soles of the feet in particular. Day in and day out, patients are shocked to learn that you can get a melanoma on your foot, in your nailbed (subungual melanoma) in your eyes or some other place that seems protected from the sun.[Read full blog post: Is There a Skin Cancer Crisis in People of Color?]
– Andrew Alexis, MD, MPH, is chair of the Department of Dermatology at Mount Sinai St. Luke's and Mount Sinai West in New York City.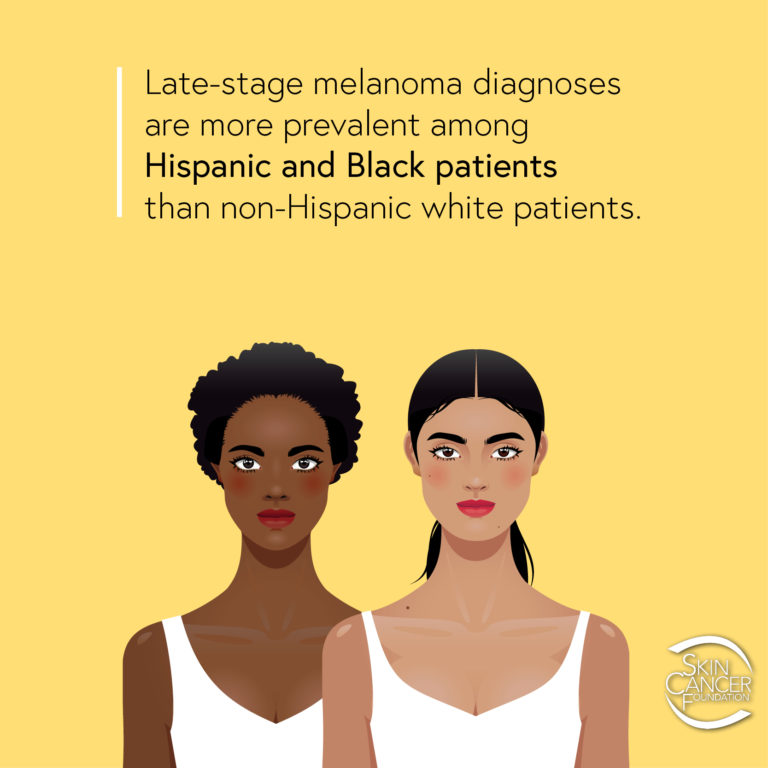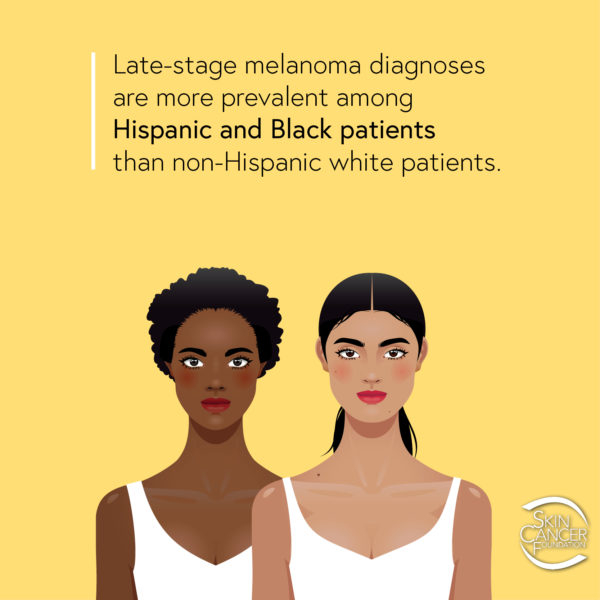 Please note: Since not all skin cancers have the same appearance, these images serve as a general reference to what it may look like.
ACRAL LENTIGINOUS MELANOMA
Acral lentiginous melanoma (ALM) is the most common melanoma found in people of color.
Photo credit: Hugh Gloster, MD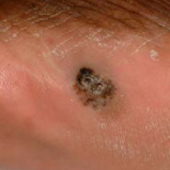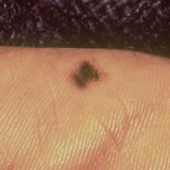 Photos: International Skin Imaging Collaboration
A basal cell carcinoma (BCC) may be pigmented, like this one, on skin of color.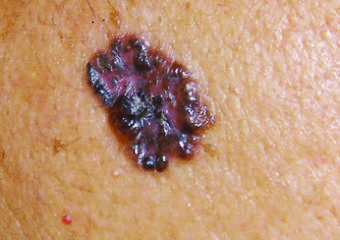 Photo: Andrew Alexis, MD, MPH
Pigmented BCC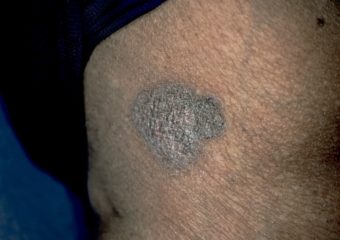 Photo: Hugh Gloster, MD
Pigmented BCC behind the ear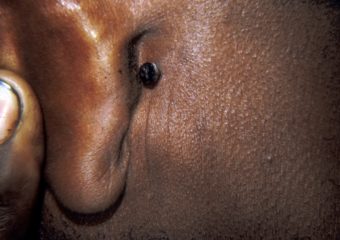 Photo: Hugh Gloster, MD
BCC on the nose of an Asian man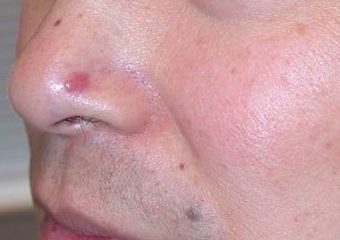 Photo: Hugh Gloster, MD
Squamous cell carcinoma (SCC) on the scalp of a Black man.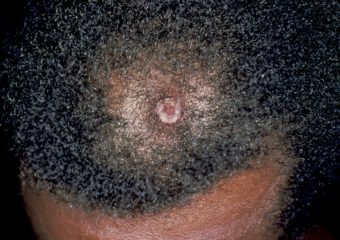 Photo: Hugh Gloster, MD
Last updated: September 2023